Today, I will be featuring the list of top 10 best online loan apps in Nigeria for superfast lending and instant approval in 2023.
These urgent lending apps provide instant loan in minutes for both individuals and businesses in Nigeria without requiring your documentation, collateral or guarantor. The evolution of the FINTEC industry across the globe has birth the quick loan industry and within a few minutes with your smart phone and a little profile details, you can access loan funding at the comfort of your room.
Nigeria has become one of the leading and fastest growing fintech nations in the world with a lot of the best loan apps in Nigeria that you can easily run to and acquire a loan when you fall into cash emergency.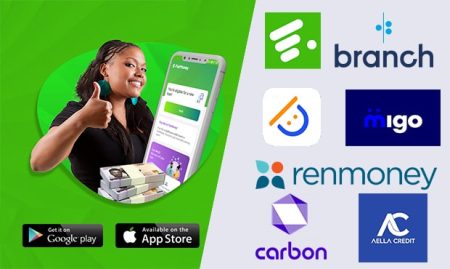 Therefore if you reqire quick loan to meet urgent needs and you need to apply through any of the top 10 best loan apps in Nigeria, you can be sure of getting the required funding into your bank account within a few minutes without collateral, without document and no need of guarantor or visiting a physical office.
A lot of Nigerians have been requesting for such reputable instant lending platforms for borrowing that will neither public shame them nor curse them nor expose their contact data to the public.  These platforms we are reviewing give urgent cash loan instantly without documents and without exposing their customers private data to the public.
Top 10 Best Urgent Online Loan Apps In Nigeria Without Documentation For Superfast Lending in Minutes 
 Branch
Carbon
 Aella Credit
Quick Credit
FairMoney
Page Financials
Renmoney
Umba
Money in Minutes
Migo
1. Branch Loan App
Branch International is the first on the list of top 10 best urgent loan apps in Nigeria for superfast approval and without documentation in 2023. The lending app makes it easy for borrowers to get quick loan up to ₦500,000, to transfer money for free, and enjoy investment yields of 20% per annum.
Digital lending from Branch is designed to fit the needs of the borrower and help him or her grow. As you build credit with Branch, you unlock larger lending amounts. Unlike other lending apps, Branch don't make you jump through hoops or fill out paperwork. Simply apply through the Branch app and get approved in less than 24 hours.
Branch loan app doesn't charge late fees or rollover fees, nor put restrictions on how you spend your money, and their customer support team is available 24/7.
2. Carbon Loan App
Carbon Loan App is featured as the second best lending platform in Nigeria for instant online lloan approval and quick disbursement of cash.
Carbon, formerly known as PayLater, gives you access to a loan in minutes in Nigeria without documents. The 3-year digital lender prides itself as "a simple digital finances management platform" that provides instant online loans to help you cover urgent and unexpected cash needs.
Quick loans from Carbon do not require documents, collateral or guarantors. At your first try, you may not be able to access big funds, you start by borrowing small, and paying back as at when due, then you can have access to bigger funds from this digital lender.
Carbon digital lending app is available 24/7. You can apply on weekends and holidays and get a quick loan.
3. Aella Loan App
Aella Loan App is our 3rd pick on our list of top 10 best loan apps in Nigeria without documentation or collateral. With this app, it shouldn't be difficult to borrow quick loans and get instant cash for yourself or for your business. It shouldn't also be difficult to get loan to invest, increase productive capacity, pay bills, and get more working capital for your business. With Aella, all these are available at the snap of your fingers.
4. Quick Credit Loan App
Quick Credit is our 4th pick on the list of top 10 best urgent loan apps in Nigeria without documentation or collateral for emergency cash 2023. Quick Credit app strives to provide borrowers and mobile users with convenient lending and quick loan services. With simple steps and minimal or no documents, users can get qualified loan products which is 100% online process. Once approved, the loan amount will be immediately transferred to the applicant' s bank account.
5. FairMoney Loan App
Fairmoney takes the fifth position on the list of top 10 best loan apps in Nigeria as it comes with a seamless loan procedure and excellent customer service. Loan amounts range between ₦10,000 to ₦1,000,000 with repayment periods from 61 days to 18 months at monthly interest rates that range from 2.5% to 30% (APRs from 30% to 260%)
FairMoney lending app has no hidden fees and one unique feature is that it has an interest discount of up to 90% for early repayments.
6. Page Financials Loan App
Page Financials is our 6th pick on list of top 10 best urgent loan apps in Nigeria without documentation or collateral for emergency cash 2023. Whether you have an urgent need for cash to settle bills, take care of emergencies or grab an opportunity? Page Financials lending app and platform can be your good alternative.
Minimum loan amount is N100,000 and the upper limit for a new customer is N5, 000, 000. Both depend on borrower's capacity to repay based on verifiable income level and other selection criteria. You can get your loan approved and cash disbursed within 3 hours of application. Monthly Interest Rate: is 2.99% with no other fees required. Minimum and maximum loan term is 3 – 12 months.
7. Renmoney Loan App
Renmoney is our 7th pick on our list of top 10 best loan apps in Nigeria for superfast lending. The quick loan company is managed by a group of technology and finance enthusiasts who are passionate about making financial inclusion count in Nigeria.
Renmoney digital lender is Nigeria's most convenient microfinance instant lending company – delivering outstanding service experiences. With the instant loan app, you can apply for a convenient loan to meet your needs like growing your small business, renovating your home, buying a new car, paying rent, school fees or medical bills, etc.
8. Umba Loan App
Umba comes 8th position on our list of top 10 best loan apps in Nigeria for superfast approval and cash disbursement. It's hosted on both Google Play Store and Apple Store and prides itself as the leading digital bank in Africa. The app allows users to apply, drawdown and repay loans directly from their smartphone or desktop computer.
Once an individual is verified, it makes lending decisions based on an assigned risk rating.
What do people use Umba for? Plenty of things, like:
Getting a Mobile Money Loan
Apply mobile money loan in seconds. Receive mobile money to your M-Pesa account.
9. Money In Minutes Loan App
Money In Minutes is our 9th pick on the list of top 10 best urgent loan apps in Nigeria without documentation for quick lending and emergency cash 2022. The organization code named MIM Finance Company has been enabling lives and businesses for over twenty (20) years now by its quick online loans and other related business support.
With over $10 Billion disbursed over the last two decades, Money In Minutes is in a position to help individuals and businesses to grow. According to the company: "Affordable and stress-free finance shouldn't be for the privileged few but for ambitious and hardworking citizens that can demonstrate the ability to afford repayments."
10. Migo Loan App
Migo (formerly called kwikmoney)  ranks the 10th position in our list of top 10 best urgent loan in Nigeria without documentation or collateral for emergency cash 2023. Migo is a cloud-based digital lender in Nigeria that enables you access to instant loan and if willing, to make purchases from merchants or withdraw cash without the need for a smartphone, point-of-sale hardware or plastic cards.
Migo loan amounts range from N500 to over N500,000. The loan agency usually start with a small loan and grow your loan offers over time as you borrow and repay consistently and build trust with the system. You do not need any document, guarantors, collateral or physical office visitation to request your Migo loan. Your loan offers will continue to grow at a steady pace as you borrow and repay early.
To get a loan, all you have to do is enter your phone number here. Once you select the loan amount you want, you'll be asked to give details of your bank account for the loan to be deposited. Finally, your debit card information will be registered to make repayment easier for you.
You can also get a Migo loan by dialing *561# for MTN, 9mobile, and Glo or *554*561# for Airtel. From the list, select "Request Loan" to see a list of your customized loan offers.
Conclusion
With the top 10 best loan apps in 2023 which include Carbon Loan App, Aella Loan App, FairMoney Loan App, Umba Loan App, GTBank Quick Credit and many more reputable loan apps, you can get fast lending from N10,000 up to N1,000,000 and more, which should cover your financial emergencies. These applications grant urgent loan in minutes across Nigeria without asking for documentation, collateral or guarantor, and none of them will expose your private data or your contact list to the public.