Rapid Naira profess to be a quick loan application and was formerly hosted on Google Playstore with the dubious claim of offering reliable instant lending to Nigerians. The app was launched in August 16, 2021 by Sun Constellation. Before Since its launch, Rapid Naira already has well over five thousand (5,000) downloads as at the time of this publication.
What Rapid Naira Promises
Rapid Naira promises to get you urgent loan in just few steps and and in minutes. The platform claims their loans are for Nigerians and that you can borrow between N6,000 to N300,000 and repay between 91 to 365 days. They also claim to charge interest rate from 2.4% to 12% monthly with an equivalent APR of 4.8% – 24%. This application promises to deposit the loan in your bank account within minutes with no paperwork, no collateral, no guarantor, no hidden charges, and so many other fake promises.
What Rapid Naira Really Is
After thorough investigation, VERY SERIAL can authoritatively report Rapid Naira is a fraudulent and fake loan application. It has no quick loan to offer anyone, and it has never given any loan whatsoever before. It is just an application that is designed to steal money from innocent users and undiscerning borrowers and at the end of the day give them nothing. Once you fill in your account and banking security details into their app platform, they will continuously be debiting and stealing your money with the name FLW Professional Service, Lekki.
Rapid Naira Has No Website, No Physical Office and No Social Media Pages
We understand that Rapid Naira is a fraudulent faceless app and people should stop downloading or patronising them. It has no physical office address, no website, no single social media and no website link whatsoever. Nigerians are hereby warned and advised to desist from using this application and go to Google Play Store enmass to report and expose their fraudulent acts.
Any mobile application by Sun Constellation should be placed on red alert. They formerly have Rapid Naira and also Prime Loan on Google Play Store and people are advised not to download any of these two or any other that can be linked to Sun Constellation wherever they are found. If you have installed and used any of these applications before now, you are adviced to quickly block access to your banking details and ATM.
After receiving lots of complaints from the public about the fraudulent act of Sun Constellation operating with the name FLW PROFESSIONAL SERVICE LEKKI, it is still shocking why banks and regulatory authorities haven't frozen their bank account, as they still continue defrauding hapless Nigerians.
How Google Finally Removed Rapid Naira, ForNaira and LCredit, Other Fake loan apps from Play Store
Google has finally removed Rapid Naira, For Naira and LCredit from its Play Store for allegedly violating its set policies on finance apps operations. These are scam apps that have been scavenging poor Nigerians and violating Google Policies on lending apps.
So many apps on Google Play are violating their policy on lending and repayment and we call on the search giant to enforce its rules and call them to order. The plight of Nigerian consumers are at stake. Regulatory authorities have also been called upon by this platform to enforce local laws on these loan sharks.
Why Google removed Rapid Naira and LCredit from its Play Store
More revelations have emerged why the internet giant, Google removed Rapid Naira and LCredit loan apps from its Play Store. Both apps have been found to be violating Google policies on loan application, loan approval, terms and conditions, and privacy polices guiding finance apps hosted on its network.
Apps such as Rapid Naira, LCredit and ForNaira and some others on Google Play Store have been found to be predating on poor Nigerians and violating Google Policies on lending apps.
According to one of the policy statements of Google for loan apps hosted on its Play Store: "We only allow personal loan apps with full repayment required in greater than or equal to 60 days from the date the loan is issued… apps that fail to do so will be removed without further notice."
Another Google Policy states that: "Any app that offer personal loans with an Annual Percentage Rate (APR) of 36% or higher are no longer expected to be available on the Play Store. To keep their apps in the Play Store, lenders must adjust their products and business models to meet Google's requirements."
However many of the lending apps, including LCredit and Rapid Naira give loan ranging from 7 days to 30 days at very exhorbitant interest rate and APR higher than that specified by Google. The network should enforce its policies and show these violating apps the way out.
Rapid Naira Forces Unsolicited Loans On Customers With Outrageous Interest
Their latest method of scam however is perpetrated against their subsisting customers who already have their app downloaded on their phones and have once borrowed money from the fraudulent online lending platform. Their scheme is to transfer a given amount to you unsolicted, and then double it on the dashboard with loan shark interest, and ask you to repay bacl principal and interest in 7 days time.
Rapid Naira is now forcing its "unsolicited loans" on all of their previous customers even after uninstalling their app, since no one is patronising the fraudster app anymore. If you have ever gotten a loan from them or have ever installed their app on your phone, it means the platform already has your banking details and account number safely on their database.
The app randomly send different amount of money to those customers on dubious interest rates sometimes for up to 100% APR and interst rate. God help you if you fail to pay in 7 days time, your number will reverberate all over social media space as a debtor withyour full details and photographs, calling you unprintable names.
Rapid Naira is one of the most notorious and dangerous fraudster of a loan app, and one of the earliest to be booted out of Google Play Store and operations shut down in Nigeria after series of damning report on them. The loan app has no physical office, has no website or social media page, has no facebook or instagram page.
Rapid Naira Loan App Harassment: I Was Forced To Take A "Loan" Of N16,425 To Pay N23,443 In 7 Days -Lagos Borrower
Their latest victim is Simisola Olayiwola (not real names), a female student who lives in Lagos. Simisola told us that she has once downloaded Rapid Naira app and borrowed money from the platform apparently before it was banned and kicked out of Google Play Store.
Simi told us she had also paid in ful the loan she borrowed. With just this transaction Rapid Naira like all other loan apps in Nigeria has already downloaded safely all her contact details, her phone details, her BVN, NIN, bank account details, photos, etc.  Unfortunately she did not uninstall the app from her phone.
Armed with this tools, Rapid Naira transferred money to her account this morning without she asking for a loan from the app. The loan shark then calculated an astronomical interest rate and added it to the amount trasnferred and displayed it as her repayment amount in 7 days, almost doubled.
This is the height that a loan app can get to in Nigeria. This is the height of scam, fraud and dubiousity. Simi is just one out of several Nigerians Rapid Naira is duping silently while the government and regulatory authorities are silent!
Read her testimony below:
So I just finished my workout this morning and I was on my phone, an alert of N16,425 came in and I was even happy because I thought someone sent me money. However on closer observation, only for me to check it and I saw that it was a transfer from Rapid Naira. Now, I didn't ask for this loan and I went to check on the app and I saw that I'll be paying back N23,433!! Without as much any request from me.
Please I didn't order for the loan in any way, they just sent the money to me. Though Rapid Naira have my details because I once borrowed money from them some times ago, but then I've repaid all my debts with them! I have tried every effort at reaching out to them to no avail.
I have been looking out for their customer care number but I couldn't find any. Please help us escalate this because I want to return their money to them, plus I don't need, I never demanded for it. This is just the height of fraud and scam.
Pic 1. See Below Screenshot of the Rapid Naira alert of dubious unsolicited loan transfer to the customer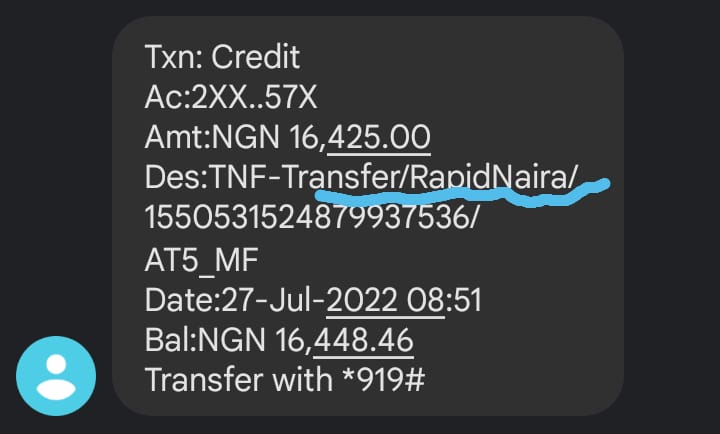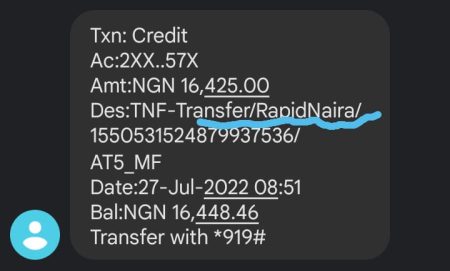 Pic 2. See Below Rapid Naira dashboard requesting customer to pay dubious fraudulent interest plus principal on unsolicited funds

Pic 3. See Below Customer's protest to Rapid Naira loan app scam, that she never requested for a loan.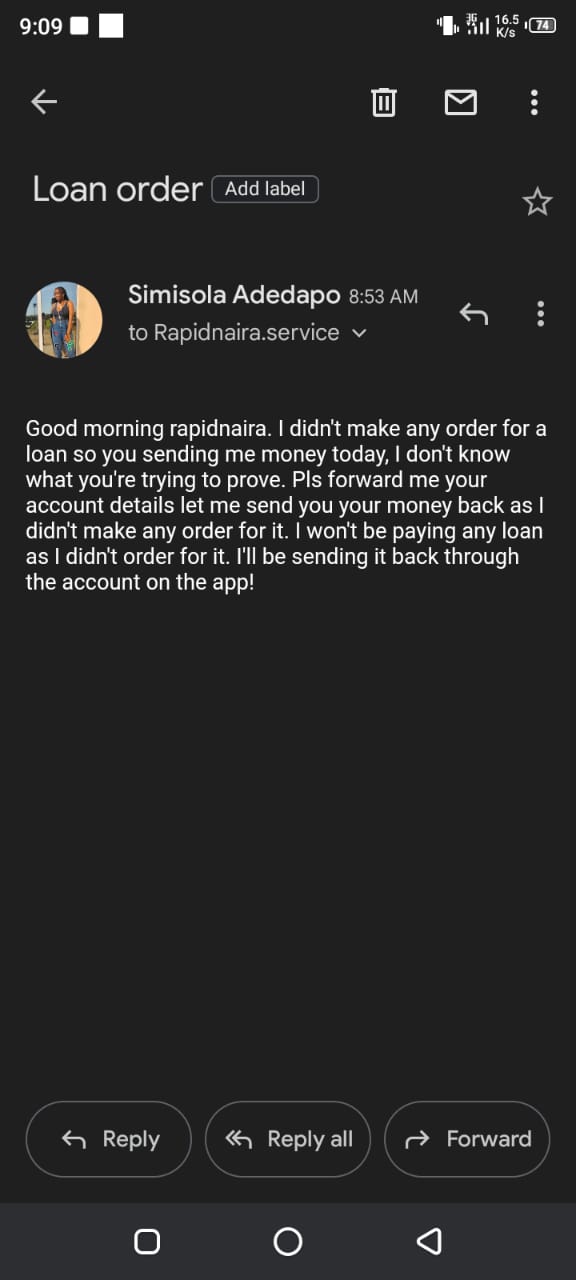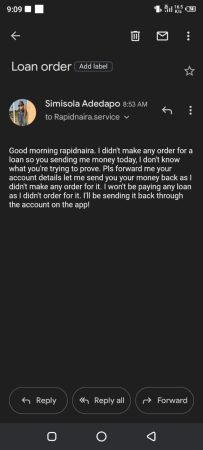 How Sterling Bank And Moniepoint Microfinance Bank Is Complicit In This Rapid Naira Scam
This is what Rapid Naira have been doing with all their customers since they became jobless having been banned from Google Play Store. They will send you money and expect you to pay about 50% interest in 7 days time.
Our investigations reveal Rapid Naira uses Moniepoint Microfinance Bank to transfer those fruadulent and unsolicited loans to customers. This means they have an active account with Moniepoint MFb. Our findings further show that the loan app has an active account in Sterling bank which they use in recovering their scam loan repayment.
How the authorities haven't discoverd this money laundering account and issued a lien on them is what perplexes this medium. Where's Central Bank of Nigeria (CBN) in all this? Where is Dr Irukere and his team in FCCPC with all their barkings and clamping down on illegal loan apps bank account?
Moniepoint is a relatively new FINTEC that provides banking solutions that enable businesses to collect payments, access loans, manage operations and ultimately grow their business. Moniepoint claims to give loans up to N5M for businesses, a claim this medium cannot independently establish. In April 2022, Moniepoint relaunched its product, as a business bank. The company said the move was in order to power business dreams of Africa's real economy, and provide financial happiness to all.
Moniepoint, which would serve as a micro-finance bank, was developed to address the needs of several small businesses, including Small and Medium Enterprises (SMEs) that have been neglected over the years by legacy and digital banks.
However for Moniepoint to allow its banking service to be used by Rapid Naira loan app means its allegedly complicit and should be investigated by the Nigerian Financial regulatory authorities since Rapid Naira has been banned by Google and by the Nigerian Government over its fraudulent dealings. Rapid Naira has no office, no office addrsss, no website not a single media page or phone number. It however has an email on its app which customers use to reach the app as follows
Rapid Naira Customer Care Number, Bank Account Details And Emailing Details
Find below the details of Sterling Bank which Rapid Naira uses in their scam lending operations. The account is where they either transfer money to borrowers or receive repayment after the loan is due.
Acounts Name: MFY/HOLLANDALE-FAD
Accounts Number:  8466658235
Bank: Sterling bank
Rapid Naira Customer Care Number
0813 440 2471, 0913 121 1797, 0903 1743015
Rapid Naira Email
Rapidnaira.service@outlook.com.
Rapid Naira Bankers
Rapid Naira uses Sterling Bank and Moniepoint now Moniepoint Microfinance Bank for all its dubious and fruadulent transactions. How this banks haven't realized this and allowed themselves to become accessories in the act of alleged crime is beyond me.
Rapid Naira Website
h5.rapidnairaapp.com
Customer Who Fell Victims Of Rapid Naira Jumbo Loan Recounts Gory Experience
B.B. October 7, 2022 at 6:34 pm Edit
After deleting rapidnaria app from my phone. Some week later I was sent 45430 without applying for a loan which I tried every possible way to contact them I couldn't find them. I went to the playstore to download the app, I couldn't find it on playstore
I remembered the agent that chatted me up during my last repayment before deleting the app. So I contacted the agent who told me that I will be notified from the company on how to refund the money
An agent from the company chatted me up who told me that my account was auto disbursed with d sum of 45430 to repay 69987 in seven. So I told the agent I want to refund the money. He send me the company offline account. Which I made the payment.
A week later they started disturbing me to make a repayment of 69970 which I have already repaid. I explained everything to them I was told I made the payment to a wrong account. pls u guys should help me what should I do
Okomayin Peter. October 7, 2022 at 5:38 pm Edit
They have withdrawn so much cash from my account fraudulently without given me any loan just for the mere fact that they have my banking details.
Ogunyode lanre. October 9, 2022 at 3:47 pm Edit
Also me, I received 10000+ without requesting ,I called, mailed try all means to reach them to not I paid 16000+,could you believe after paying them .they still went ahead to pay me 21000+ and to pay 30000+. Now claiming it was computer error.
Reviews of Rapid Naira Quick Loan App
Rapid Naira slogan on Google Playstore use to be "Reliable Instant loans in Nigeria" but our findings reveal they are one of the most unreliable scam quick loan apps in the country.
Unfortunately many Nigerians have fallen victim of this fraudulent app. See the following few of the numerous reviews by their customers and patrons on google playstore.
It has ironically an astounding high app ranking history on the store but it's all fraudulent. Dont ever download it!
This app is fake! When you download it, it will clear all your money from your account. This is fraud!!! Please I advise no one should download this app.  Sep 21, 2021
Play store should pls bring this app down, they are fraudster. Sep 20, 2021
Please u guys should check your mail and return my money , because u people r scams taking money from my account with out my permission. Sep 20, 2021
There are theif dont download it they will clear your bank accout every weekend. Sep 20, 2021
They are criminals, don't ever download this app. Sep 20, 2021.
Below are what some users have to say about this allegedly fraudulent app: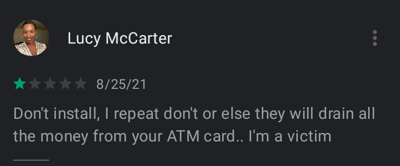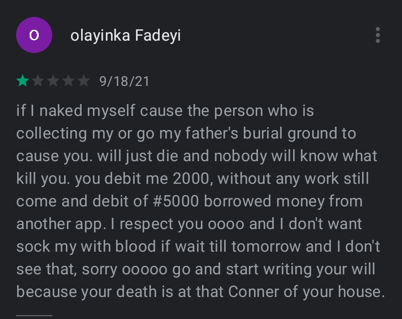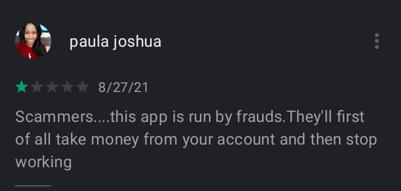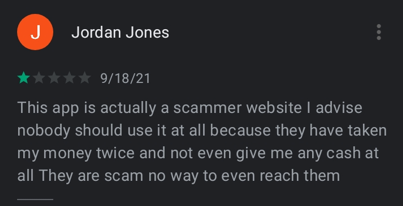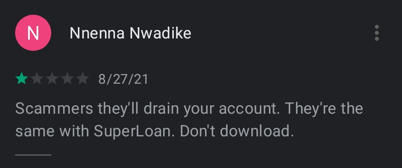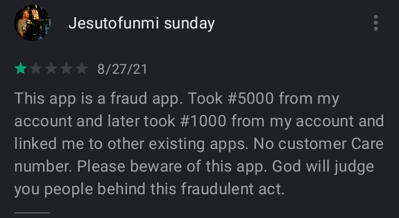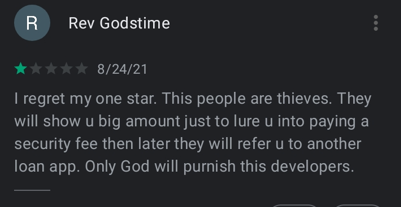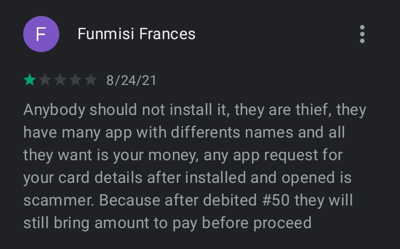 List of Fully Licensed, Legit And Reliable Loan Apps in Nigeria
Some of the fully licensed and reliable loan apps in Nigeria that have been registered to operate quick and instant online lending and micro-lending, micro-lending activities across the country include Carbon Microfinance Bank, Blueridge Microfinance, Branch International, FairMoney Microfinance Bank, Renmoney Microfinance Bank, NewEdge and Aella Credit among others.
Below is the full list of approved and reliable loan apps legally permitted to operate in Nigeria:
SYCAMORE INTEGRATED SOLUTIONS LIMITED
TRADE DEPOT
TAJOW INVESTMENT
BLUE RIDGE MICROFINANCE BANK LIMITED
GROLATECH CREDIT LIMITED
BRANCH INTERNATIONAL FINANCIAL SERVICES LIMITED
P2VEST TECHNOLOGY LIMITED
CREDITWAVE FINANCE LIMITED
KEENEST TECH SERVICE LIMITED
FAIRMONEY MICRO FINANCE BANK
ALTRACRED FINANCE INVESTMENT LIMITED
CREVANCE CREDIT LIMITED
MENACRED COMPANY LIMITED
AFROWIDE DEVELOPMENT LTD
RED PLANET NIGERIA LIMITED
AFROFIRST MOBILE AND TECHNOLOGY COMPANY LIMITED
RANKCAPITAL LIMITED
IBS GOLDEN INVESTMENT COMPANY LIMITED
LENDVISERY SERVICES LIMITED
RENMONEY MICROFINANCE BANK LIMITED
SWIPEBILL TECHNOLOGIES NIGERIA LIMITED
HOMETOWN FINTECH LIMITED
GIASUN TECHNOLOGY NIGERIA LIMITED
BE RESOURCES LIMITED
ROCKIT LENDERS NIGERIA LIMITED
PIVO TECHNOLOGY LIMIED
YES CREDIT COMPANY LIMITED
IRORUN TECHNOLOGIES LIMITED
CSENSE LIMITED
SUPREME HELP COOPERATIVE SOCIETY LIMITED
ORCOM AND ORCOM BUSSINESS SUPORT LIMITED
PAYHIPPO LIMITED.
EASYCHECK FINANCE INVESTMENT LIMITED
QUARK FINANCIAL NIGERIA LIMITED
 EDMOND SOLUTIONS COMPANY LIMITED
TED ROCKET LIMITED
PENAID LIMITED
ARVE LIMITED
DOVER CREDIT LIMITED
 RAGEKAY GLOBAL INVESTMENT LIMITED
 MAYWOOD LENDING LIMITED
LINKPARK TECHNOLOGY NIGERIA LIMITED
 MANGNET LENDING LIMITED
RUBYSTAR GLOBAL LIMITED
BESTFIN NIGERIA LIMITED
FUBRI CENTURY COMPANY LIMITED
BERLY SPRING GLOBAL LIMITED
ROCK FINANCIALS LIMITED
PHOENIX PAYMENT SOLUTION LIMITED
VALUE DRIVER TECHNOLOGY SOLUTION LIMITED
NEXTPAYDAY LIMITED
BLACKCOPPER SERVICE LIMITED
TRAFALGAR ASSOCIATE LIMITED
WINDVILLE FINANCIAL NIGERIA LIMITED
ORANGE LOAN & PURPLE CREDIT LIMITED
CARBON MICROFINANCE BANK LIMITED
NEO-LINK TECHNOLOGY COMPANY LIMITED
FINNEW FINTECH LIMITED
OTP INTERNET TECHNOLOGY LIMITED
RED HARBOR FINTECH LIMITED
 PAYLATER HUB LIMITED
SKITLOAN NIGERIA LIMITED
RACEOVA NIG. LIMITED
NEW CREDAGE NIGERIA LIMITED
BETTERLENDING COMPANY LIMITED
FAST-POINT INTERGRATED LIMITED
APEX LENDING LIMITED
PISKA TECH NIGERIA LIMITED
PRINCEP CREDIT SYSTEM LIMITED
OMALEND SERVICE LIMITED
POCKFUL FINANCE LIMITED
HIGHCREDIT NIGERIA LIMITED
HOLLANDALE NIGERIA LIMITED
PAY FINANCIAL TECHNOLOGY SERVICE LIMITED
A1 CAPITAL SOLUTION LIMITED
NEWEDGE FINANCE LIMITED
PAPICHOU TECHNOLOGY LIMITED
GOHARVEST INTERNATIONAL LIMITED
MINO SPARKS LIMITED
XGO FINANCE LIMITED
PRIMERA MICROFINANCE BANK
CREDIT TECH LENDING COMPANY
PROSPERITY ARCHIPELAGO LIMITED
FINESEST LIMITED
SINGULARITY TECHNOLOGY NIGERIA LTD
ECON MART FINTECH LIMITED
PENNEE TECHNOLOGIES LIMITED
OXYMON SOLUTION LIMITED
LANTANA TECHNOLOGY LIMITED
APPLINK CAPITAL NIGERIA LIMITED
YEGON TECH LIMITED
FEZOTECH NIGERIA LIMITED
ERIC VSTA LIMITED
MOBLASPAY COMPANY LIMITED
PAYCREDIT LIMITED
NIZ SERVICES LIMITED
MINO SPARKS LIMITED
FLO WOOD LENDING
LIBERTY ASSURED LIMITED
UNI TECHNOLOGY NIGERIA LTD
TRADE LENDA COM LIMITED
CREDITVILLE MICROFINANCE BANK LTD
LETSHEGO MICROFINANCE BANK LTD
KIOWOPE CAPITAL LIMITED
VEENDHQ LIMITED
UCPLUS ADVANCE LIMITED
MAVEN FINANCE LIMITED
AELLA FINANCIAL SOLUTIONS LIMITED
FLUNA CAPITAL LIMITED
NEWEDGE FINANCE LIMITED
TA PRIME LIMITED
REGXTA GLOBAL SERVICE LTD
PROVEST LIMITED
JM RUBINUS LIMITED
CROSSROADS E-PAYMENT SYSTEMS LIMITED
CONSYNERGY LIMITED
FINTCRED INNOVATION LIMITED
AFROSAY FINTECH LIMITED
MIM FINANCE COMPANY