A single mother has bared her mind about Fairmoney loan harassment and vowed never to borrow money from the app again, not after she has been made to pay almost 100% interest rate on a loan she collected last year.
FairMoney is widely regarded as one of the best loan apps to meet emergency instant funding in Nigeria. Various platforms have done reviews about the digital lender and have given them excellent mark. In fact if you are evaluating the first 5 best loan apps in Nigeria today, chances are you will be inclined to add FairMoney to your list.
FairMoney Loan Harassment: Customers Are Complaining About Difficulty in Linking Their ATM Card
However our most recent findings reveal the instant loan app is presently having some difficulties managing their successes. One of the areas of challenge include the linkage of customers' ATM cards. Many of the users interrogated complained about difficulties in getting their debit cards linked to the FairMoney system.
Yet some others are complaining that the loan app exorbitant and escalating interest rates. Many are asking if FairMoney is fair after all. The complaints are obvious from many of the feedbacks we got. The loan app will do well to look into this and make their interest rate moderate.
Many of the feedbacks we got from this top loan app are to the effect that the customer service of FairMoney is on the decline. The response time is getting poorer too. We believe this leading loan app can do better.
FairMoney Loan Harassment: Customers Share Agonising Experience Borrowing from This Lending App
A single mother living in Lagos has vowed never to borrow money from FairMoney Loan App again, not after she has been made to pay almost 100% interest rate on a loan she and her sister borrowed from the lending platform last year.
According to the borrower, a single mother, FairMoney loan app has really been over-rated in recent times and should be re-categorized as one of the loan sharks constituting threats to the quick loan industry in Nigeria.
Onyedika Onyebuchi (not her real names) who lives in Lagos, made the statement in response to our earlier report about a Widow who complained about FairMoney lending her N150,000 to pay N270,000 in 9 months. The widow a civil servant in Oyo State has decried the extremely high and killing interest rate of FairMoney.
According to Onyedika, FairMoney loan app interest rate is mad and unrealistic. She said she regretted borrowing money from them and as soon as she is done with the repayment, she will never again patronize the lending application.
Lagos Single Mother Recounts Ordeal in the Hands of FairMoney Loan App Killing Interest Rate
FairMoney interest is mad. I borrowed N100k from them lasy year to pay N172,800 in 9 months. I pay N19,200 monthly. I still have 2 more months to round up. However I will never get loan from them again.
 It was I and my sister that borrowed the cash last year. We were in a financial emergency and so down on cash so were forced to approach FairMoney. We pay 8th of every month. So after this month of April, we have two more months to round up.  Seriously the loan is crazy. I have already vowed never to get loan from them again. I am sure carbon will soon be like them.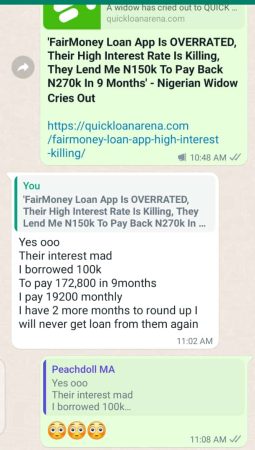 Oyo State Widow Cries Out Against FairMoney Loan App High Interest Rate
Meanhile another FairMoney customer, Mrs Olowolafe Adebowale, (not real names) a civil servant with the Oyo State Government told us she borrowed N150,000 from the Loan App to be paid back in 9-month tenure at the rate of N30,000 per month.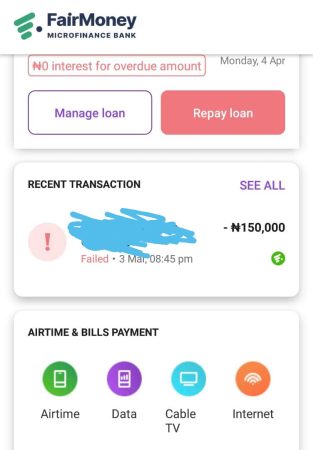 That's a whopping repayment of N270,000, that is at almost 100% interest rate as against the 30% FairMoney claims in their website and Play Store profile. This loan interest is very high and not according to fairness and equitability that many think FairMoney loan app stands for. A lot of people see Fairmoney loan app as one of the best digital lending platforms in Nigeria but this claim is put under the test.
Mrs Adebowale lamented that she been a widow needed the N150,000 to meet up an emergency obligation last month and the money has been collected. She says her first repayment has already fallen due 2 days ago but she doesn't even have any money to start the payment which is still a long while of 9 months away. She says she feels frustrated, threatened and cheated for having to pay almost 100% interest rate for 9 months.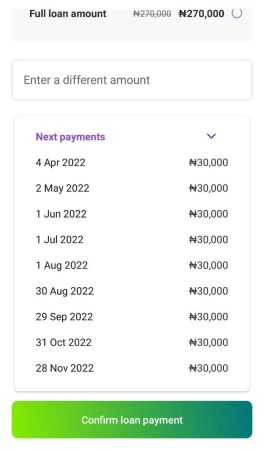 Mrs Adebowale now wants the Federal government, regulatory agencies, FCCPC, CBN to rein on FairMoney Loan app to deal on a fair interest rate as required by law. She wants Nigerians to come to her aid and prevail on loan apps in Nigeria to not charge high interest rate that is killing.
Read her Statement below:
In first week of March 2022, I requested for a loan of N150,000 from FairMoney Loan App and it was apporved after due diligence on my profile and application. I am a widow and a civil servant living and working in Oyo State. The lending app says I will be paying back N270,000 in 9 months which equals to N30,000 every month.
I agreed with the loan terms and proceeded to collect the money due to the emergency I needed it for at the time. Please VERY SERIAL and entire Nigerians and government agencies, help me look into this. Help hundreds of borrowers and customers whgo are suffering daily under FairMoney loan app high interest rate that is both unfair and killing.
I am supposed to start the monthly repayments on April 4 which I'm still hunting for the N30,000 to be paid either today or tomorrow. Please how can you be of help by publishing FairMoney loan app high interest rate? It is unsustainable. Many people believe FairMoney is a good loan app but their high interest rate make me to wonder if this is true. Thanks.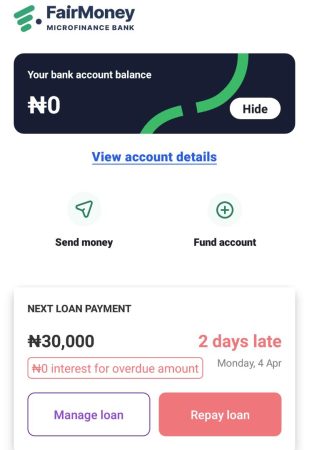 This medium has been in the forefront of media battle against illegal loan apps and loan sharks in Nigeria. We have exposed several scam and fraudulent lending platforms that are defrauding Nigerians and Google has even removed some from their platforms.
The Nigerian government through the FCCPC has also intensified clampdown recently against the loan sharks that are charging very high interest rate and operating illegally.
FairMoney Loan App Customer Feedback: Loan App Has a Poor Customer Service, High Interest Rate
Read the following reviews and feedback gotten from users and borrowers of FairMoney loans to under areas these loan app needs to make adjustment.
Akinwale Adedeji
15 February 2022
Very Useless as a Banking App! I used their card at a Super Mart, the transaction failed, i contacted them through email, facebook and Instagram handles, they ignored me for almost 3 months now. My funds are yet to be reversed. I sent screenshots, sent the failed transaction receipts, nothing was done and my money went into thin air! They are a bunch of criminals! Bank with them at your risk and don't forget someone warned you. Obedience is better than sacrifice!
Evelyn Inere
15 February 2022
I have been trying to add my atm but the Fairmoney loan app kept saying invalid cvv. Nothing is wrong with my debit card but i keep getting this error, tried to log out and create another account but saying my bvn has been linked,. Tried to go back to the previous account… I have no access to it anymore, I've sent mail but no reply yet. Pls i need help…
Ema Josh
10 February 2022
My first trial was smooth and loan refund payment was automatically deduct from my bank account. I applied for another loan which shows on the app that it has been transferred to my account but I'm yet to receive any payment of such for 3days now and payment date is ticking. Please you better fix this because I can't pay for money I didn't receive. I've sent mails to your customer care but up till now no reply. Kindly resolve this please.
Edward Akpotu
2 February 2022
Its no longer reliable, I have been trying to add a debit card for weeks now, it says card will be added to your account but it doesn't work, I tried several cards, says same thing, and after contacting customer care both via email and call, they have proven unsuccessful, please fix this issue and I am not the only one with this problem, you can check other reviews, fix it and I'll give you back the 5stars, thank you
Omamode Okumgba
1 February 2022
Update. My initial issues (in quotes below) are still not resolved even after I updated to the latest version! Maybe Fairmoney isn't in fair terms with Ecobank Verve card. "I can't add/connect card, and inputting random card pin unlocks/shows mobile number linked to the card! This is a hugh security risk. Also, add fingerprint login option. Inputting pin all the time is boringly slow. Thanks for the intending innovative banking experience. #UpFairmoney."
eden realm
9 February 2022
The app is great. However, I was denied loan after 2 successful attempts wherein I paid back and on time. I don't know why my loan application should be disapproved if I have been committed to timely repayment. Can someone please explain to me what might have been the cause.
Tonney Ibe
12 February 2022
Unable to add card. I tried several cards, wasted a lot of hours to no avail. I think it's intentional. If loans are unavailable, then specify. Don't use the add card trick to frustrate users
Ajekwemu Julius
6 February 2022
Very annoying app…I've been unable to link my card for almost a week now, all to no avail…the most annoying part is that you can't get a loan without linking your debit card….so please tell me? What's the need of creating an app when it cannot do simple transactions? Smh
Cyprian Egbeji
13 February 2022
I'm giving 2 stars because, I've been using fair Money for some time now and I've never defaulted, but after paying off my last loan in time, i later tried taking another loan and it was rejected please can you fix this because it's really frustrating right now,especially when i know i have a good credit score with you, Thanks
Omoruyi Uwuigiaren
14 February 2022
For now, Fair Money is a great app. One hell of a problem that they have is that the interest rate is high. If they can work on the interest rate, Fair Money Microfinance Bank will be the best in terms of the service they provide.
Chi Cindy
9 February 2022
Very disappointing equested for a loan yesterday and I got a message like this dear chinwendu congrats your loan of…… have been paid into your fairmoney MFB account .log in to app,click on 'send money'if you want to transfer it somewhere else . I have been clicking since 24 hours and it keeps telling me insufficient fond. I haven't received any money so don't expect me to repay,
How do I apply for a FairMoney loan?
To apply for FairMoney loan, download the app. The digital lender claims it takes only 5 minutes to get a FairMoney loan.