EasyMoni is one of the many quick lending platforms that has flooded Nigeria in recent times. The app claims to be a reliable app that lends money to people. According to EasyMoni, to get a loan you just need to install the app, register on it by providing the necessary requirements then you apply for a loan ranging from N5000 and above. Read below offer claim of the now banned EasyMoni loan app:
How Can I Obtain Loan from EasyMoni App?
EasyMoni turned it name to Ease Cash after being banned by Google Play Store and shut down by Nigerian government for frequent policy violations and unethical lending practices. The platform (now called Ease Cash on Play Store) makes the following claim:
Tenure: 91 days – 180 days Loan Amount: 1,000 NGN – 200,000NGN
Maximum APR: 14%;
Other fees: One time processing fee(per transaction). Minimum 5%, Maximum 20%
Interest calculation: Lending amount is 10,000 NGN, APR is 14%, processing fee is 10% and the term is 91 days.
How Real And Legitimate Is EasyMoni Loan App?
Not so much can be seen about the EasyMoni loan app online. We did a thorough and intense search on EasyMoni online but we couldn't find any website or remarkable trace of the quick loan app in the digital space. This calls to question about their integrity and legitimacy.
Imagine a lending app used by thousands of customers and loan seekers not having a website or even a physical office? This is exactly the case with EasyMoni app. A lot of articles have been written and questions asked if EasyMoni is a legit app.
However I still wonder why on earth such a business that involves in such sensitive financial service would decide not to have a website. In this digital evolution age, any business without a website and dealing with money is easily associated with scam. Not to talk about the fact that EasyMoni also has no physical office address. We ask again, "Is EasyMoney Legit?"
What Happened To EasyMoni Loan App? Why Was It Banned?
The simple answer is that EasyMoni loan app is not a legit lending platform and it has been shutdown by the Nigerian government and banned from operating on Google Play Store for gross violation of its policies.
Imagine the loan app has gotten over 100,000 successful downloads on Google Play Store, rated 3+ and has over 4,100 reviews from users and patrons before it was banned.
EasyMoni Loan Harassment: Sending Shame and Threatening Messages To Customers Are Unethical!
EasyMoni before it was banned from Play Store is fond of sending embarrassing and threatening messages to its customers over spurious allegations of loan default, even for a day.
One of our readers, Kehinde Oluwatoba (not real name) actually sent us a lengthy "unsolicited message" and threat sent to him from the app's supposedly (but phony legal dept) in regards of one of their alleged defaulting customer, threatening him of intention to expose his identities on social media because he allegedly acted as guarantor to the said customer who later did not pay up her loan.
Our checks however reveal that most times if not all, the platform's claim is faulty as the supposed guarantors are never aware that their names have been placed as guarantors (either by the lending platforms or their patrons) until the repayment default allegedly occurs and then such messages are sent.
We understands these phony quick loan platforms randomly pick on contact list names of their customers and start sending them threats and unsolicited messages claiming they are guarantors.
It's either their lending process is faulty to have been able to accept unknown and unverified guarantors or their background checking system is not existing, for them to just pick on contact numbers randomly in the phone of their customers and start sending tirade and unsolicited messages to such people just because they happen to be in their contact list.
Such lending platforms perpetrating such heinous line of communication are, in our view acting ultra vires and unbecoming. And we advise that they desist from sending such threats to unknown people henceforth.
Harassing Message To Customers' Contacts from EasyMoni Unacceptable
See below the unedited message sent by EasyMoni to the supposedly guarantor who never stood as guarantee to their customer. Should this be allowed to continue in a sane society with regulation? CBN and other regulatory authorities, please take note!
NOTICE!!! The name; XXXXX and Phone No: XXXXX TOOK a loan from EASYMONI and has refuse to pay back after series of calls and messages, The public is Advised to distance from the above mentioned persons,,, for the person is wanted. Failure to pay up TODAY the above persons mentioned will be disgraced and face enormous embarrassment that will bring about disgrace to the face of the public. T
HIS WILL BE POSTED ALONGSIDE YOUR PICTURE TO THE SOCIAL MEDIA TODAY IF THE PERSON FAIL TO PAY, kindly reach and urge the above mentioned person to make payment to avoid us taking LEGAL ACTIONS against him/her, IF WE DONT GET the PAYMENT TODAY,THE PERSONS PICTURE WILL DISPLAY ON ALL SOCIAL MEDIA AS A FRUADSTER AND THE PERSON SHOULD GET A GOOD LAWYER THAT CAN DEFEND HIS/HER FRAUDULENT ACT, FOR THE MENTIONED PERSON PROVIDED US WITH YOUR DETAILS AND IF YOU ARE NOT AWARE, YOU CAN AS WELL TELL THE PERSON TO REMOVE YOUR DETIALS……. EASYMONI LEGAL TEAM.
EasyMoni Disturbs With Calls And Harassing Messages Before Loan is Due – Borrower
A user, Toyosi Jumoke reviewed the app on October 16th and narrated her terrible customer service experience from Easymoni.
Bad app ever, they started disturbing with calls and threatening messages even before the due date. I would have shown the threatening messages they sent which I screenshot here, if it was possible. You all lack manners and don't know how to treat customers and I had applied loan from them before, and even paid before the due date. I won't advice you to download this app, please opt for other good apps like fairmoney, quick check and the likes.
How Google Booted EasyMoni Out of Play Store
The tech giant, Google finally removed the notorious lending app, EasyMoni from its Play Store on 13th September, 2021 after several policy violations by the app. This followed series of our indicting reportage of breach of data privacy of borrowers which the phony platform has become known for.
The tech giant has been cracking down on fake and unlicensed loan applications that were violating the data privacy right of borrowers in Nigeria in recent times.
Who Owns and Manages EasyMoni Loan App?
EasyMoni: Banned Loan App owned, managed by Chinese loan sharks
The rogue lending platform, EasyMoni, is owned and managed by Chinese loan sharks, far away in China and Hong Kong.
How Asian Loan Sharks managed EasyMoni in Nigeria from China, Hongkong
However a detailed check on EasyMoni confirmed Facebook page shows that the digital lender was administered and managed from far away China. This is one of the revelations we got from Facebook directly.
See the screenshot below: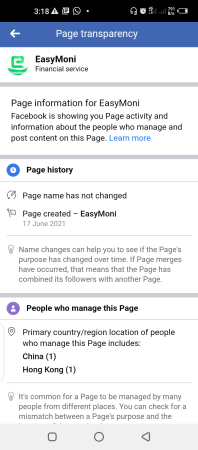 EasyMoni Customer Care Number
In summary, EasyMoni has no customer care numbers, neither does it have a physical office in Nigeria. We have received several calls and complaints from different categories of people asking for the customer care number and office address of Easymoni loan app but every effort to ascertain these information has been futile.
We advise all Nigerians to boycott EasyMoni lending platform for predating on poor and hapless citizens through their "unknown staff" who are fond of always resorting to curse and blackmailing messages to customers, their families and contact list whenever there's a slight loan repayment dispute.
How EasyMoni transformed Name To Ease Cash on Play Store 
Ease Cash is the new name for the banned digital lending app, EasyMoni and is now fully hosted and registered on the largest internet network, Google! Borrowers Beware!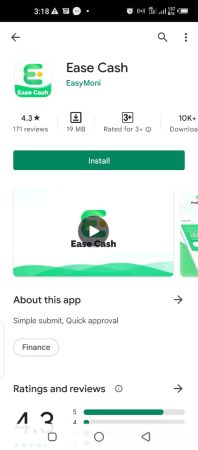 EasyMoni app that was banned by Google weeks ago has changed name to Ease Cash in order to escape and continue fleecing innocent Nigerian borrowers. The digital lending app is now fully reregistered as Ease Cash on Google Play Store.
EasyMoni got a terrible reputation for threatening and shaming its customers at any slight loan default or disagreement. The digital lending app is found of terrorising and blackmailing Nigerian borrowers for a long while and has been in violation of customer data privacy. It has now found its way back to the giant tech network as Ease Cash.
We have found out in our previous reports that EasyMoni digital lending app, now called Ease Cash is owned and managed by loan sharks from China and Hong Kong. It neither has an office nor telephone here in Nigeria but found of sending threat to any customer who dare incur its wrath of defaulting it very high interest loans and unfavourable conditions attached.
Please be warned. EasyMoni is back as Ease Case. See the photo below as it is on Google Play Store.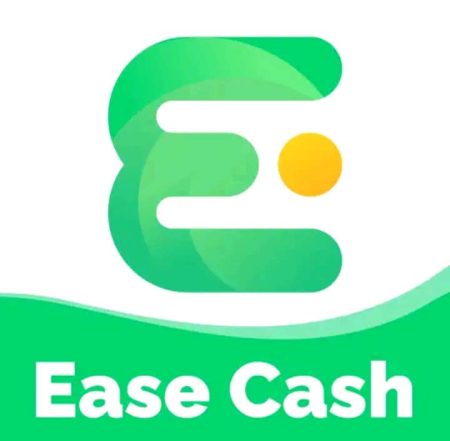 Ease Cash lending app is now fully registered on Google Play, AND YOU MAY CONFIRM BY CLICKING HERE.
EasyMoni Reviews and Customer Experiences
Few of the terrible reviews coming from users of EasyMoni app before they were banned from Google Play Store.
I got debited twice for one repayment – Orok Etim
I got debited twice for one repayment from EasyMoni and there is no means of reaching you people. No phone number, no valid email address, nothing. I've tried using the live chat but, it's not working. It is bad for a financial service company not to have a feedback mechanism, too bad. Please, let it be on record.
EasyMoni a total failure and Time Waisting App – Abel J. Olusegun
Do Not DOWNLOAD. Its a total failure and Time Waisting App. It will show you a promise of N2, 000,000:00 Loan and authorize N2000 for you as minimum. If you back out once and tap "Immediate Loan" again, it will show you maximum you can borrow to be N3,000:00 only. And at the end of the hectic registration, Loan Failure is the response you get. Useless!…
EasyMoni, Worst App I Have Ever Seen – David Bukola
This is d worst app I have ever seen. I made payment a day before my due date d next day d agents started calling me that my money is due I showed them d evidence of payment through WhatsApp they still keep on telling me they Ave not received it that they will send messages to my contacts. If u don't want thunder of God.to strike u ND ur generation don't try anything stupid. Stupid people….
This is the worst and most useless app I've ever come across – Lydia Dulla
This is the worst and useless app I've ever come across, after defaulting for four days they started publishing me on fbk sending text to my contacts that am a criminal, I run away with company's money and police are looking for me. I now pay them the 5000.00 I collected from them and send the proof, still they find it difficult to clear it , is till there on d app. Easy Moni your services are bad. People run away from them o they don't deserve 0 star at all. I respect branch….
EasyMoni is a Nice Application – Jaylin Emiliano
September 12, 2021
Nice application. Try to increase the limit of the fist timer. Nice app quickly responds, please try to increase the limit quickly, it's great, but the starting loan limit is too low, but the speed is fast, high-quality and fast service recommend any day at any time, nice app, easy to register and f…
I Can't Make Repayment – Ifeanyi Ndubuisi
October 2, 2021
Good day, please I have been trying to make a repayment but I can't log in to the easymoni loan app. Each time I try to login, the system pops up a robotic code and when I input it to verify, it still pops up different code. Please how else do I make a repayment
Wagner Wilkins
September 12, 2021
Good loan app but need to increase to monthly repayment, it is easy, their app is fast, but the loan is too small. Payment and payment are very fast, please keep it up. I like this app. It is very good and easy to use. This is the fastest loan application. It's ready in a few minutes, wow, this is so fast. I like it. thank you all.
Drgeorge gemson
September 24, 2021
This app is a worse app ever I applied for loan is was declined but they sent me message that my loan was sent to my FCMB account of which I don't have sure Account I thought it was a mistake but at they due date they kept sending me messages and call and even late payment charges but because I first applied for the loan and don't want problem I paid them off but I'm not happy with the whole thing only God will judge the liar between us, that was my unpleasant experience with the app.
Danna Roberto
September 12, 2021
Fast and convenient, the deadline is very suitable for repayment. Even after get off work, it's fast and easy…nice app, nice people, great job, great answers, loan app is very fast and low interest, I'm rushing to grab yours now, very easy and fast . You should keep working hard, this app provides fast, unique and simple loans in just 5 minutes
Hollya Jongn
September 12, 2021
EasyMoni loan app is very good, not disappointed at all. Fast and fast app, loan is quick and convenient. Although interest rates are quite high, smooth and fast. Low interest rates and no employee harassment. Nice app…I just want to be interested in this kind of longer. Borrowing money from you is very fast and very good. You are excellent, a good application, but your interest is too great, but it is a good application
Sartain Gazania
September 13, 2021
In order to meet your funding needs, the EasyMoni loan APP is convenient for mobile phone loans, with low threshold and fast loan approval. As long as you have the status of cash, many agencies' review is particularly strict. I heard a friend introduce this platform, so I want to give it a try. I hope I can lend it soon. You can also borrow through the preferred platform, submit information, fast loan and interest rate. Very high. About commendation.
SUNDAY GLORY IFEOMA
October 15, 2021
I applied for a loan , it was approved quite alright with repayment date. But i havent received the money in my account. I demand an urgent solution to avoid problem in the future. I must say your platform is fast with a very good intrest rate.
Moriah Morgan
September 13, 2021
I like EasyMoni loan app very much, it's very simple and fast. Download it. It is a good application and user-friendly. I really like this interface. Good loan application but need to increase to monthly repayment, get loan cash quickly and easily in a few seconds, fast and reliable. No trouble, no pressure. Hold on, guys
Akinoluwa Hephzibah
September 19, 2021
The process is functional, network might only be the plights but with a strong data. It's reliable to go with easymoni loan app only if you are not default ready. The service is qualitative, fast and effective. There could be a notification, three days before the repayment due. The service is indeed!
Locklin Carri
September 11, 2021
One of the best apps ever. Low interest rates, fast and efficient. I would recommend this app to anyone, and I bet you will enjoy using it. Using this cash loan app, I want to commend you for your excellent work and helping people during the financial crisis. You don't have to worry about loans anym…
Chika Nnaocha
August 19, 2021
EasyMoni loan app is one of the best 👌👌,,, but the issue am having with you guys is after payment it takes u guys eternity to clear the dashboard why,,,, please nd please clear my dashboard i have made payment since morning,,,,ur calls and texts are embarrassing,,,, but truth be told the app is quick in disbursement after u fill ur form correctly,,,,,,,,,,, easymoni easymoni i don't like the way ur recording system call nd text me every hours,,,, do something about it please
Conclusion
Some of the complainants and victims of EasyMoni and other loan apps' harassment had contemplated suicide, indicating that government needed to do more to protect vulnerable Nigerians. The partnership with
FCCPC will lead to a more robust and concerted regulatory approach which we believe would ensure that Nigerians get necessary reprieve from the illegal use of their personal data for money lending operations.