Easemoni is an instant personal cash loan app in Nigeria owned and managed by Blue Ridge Microfinance Bank Limited which is duly licensed by the Central Bank of Nigeria . In the last 6 months, the lending platform claims millions of customers keep borrowing money from them.
How Does EaseMoni Loan Operates?
Like many online loan apps in Nigeria, EaseMoni requires no collateral to get your loan approved and you can borrow money online anytime and anywhere!
EaseMoni Loan Amount And Interest
EaseMoni app claims to offer N3,000 to N1,000,000 instant cash to borrowers between 91 and 365 days tenure. The app also claims interest rate between 5-10% monthly and APR of 60 to 120%.
The lending platform provides market-competitive credit loan and consumer financial services in Nigeria, Egypt, Pakistan, Indonesia , Mexico, Colombia and other places , and meet people's needs with safe and efficient products and services.
Features of EaseMoni
Loan Amount: from NGN 3,000 to NGN 1,000,000.
Tenure: EaseMoni will require your repayment from 91 days to 365 days*.
Interest Rate: 5% to10% monthly, APR 60%-120%,
EaseMoni: Lending app with little loan, low interest and uneasy repayment
EaseMoni claims to give a fair loan amount based on borrowers' credit evaluation and history. It says no hidden fee or charges exist in its whole lending process.
For example, 91-days loan payment terms have a interest fee of 5% monthly . For the loan processed with principal amount of ₦3,000;the interest would be ₦273; the total amount due would be ₦3,273. Then first month repayment would be ₦1091, repayment of second month would be ₦1091, and in the third month repayment would also be ₦1091.
EaseMoni digital app claims the following:
1.Up to NGN1,000,000. Disburse to your bank account.
2.Rate of minimum 5% to 10%, APR60%-120%, your credit rating could help you save a lot.
3.No need any deposits or guarantees.
4. All the steps can be done online. Paperless and digital process on your mobile.
5. Your data is totally safe with us. We own a Microfinance bank that is duly licensed by the Central Bank of Nigeria. As such, all your loans are insured with Insurance Corporation (NDIC).We do not share your data with any third parties without your consent.
6.Don't worry about forgetting repayment. We'll send messages to remind you.
How long does EaseMoni application process take?
The process takes a few minutes. Just fill in the information as prompted on the page, and you will give the approval result in real time.
How do you repay EaseMoni loan?
EaseMoni loan repayment has been made as easy as possible for you. Here are ways of paying the loan.
We will auto debit due amount at repayment date direct from your bank card . Make sure the card has sufficient balance before due date.
You can pay via the App by clicking the "Repay" button.
Does EaseMoni require BVN for your loan?
Yes they do. The platform requires you to fill your BVN when requesting for a loan. Don't know your own BVN? Just dial *565*0#. Please note: This will only works if you are making the request from the same phone number currently linked to your bank account.
How does EaseMoni decide whether to approve your a loan or not?
EaseMoni uses data from your phone including your handset details and financial transaction messages, and your reason for borrowing. The app combines these together with your loan repayment history to build an individualised credit score and determine the suitable loan offer for you.
Why is the interest rate to obtain an EaseMoni loan?
The rate will be different, it depends on your credit evaluation and product loyalty. As long as you keep using the platform's product and fill in more information about yourself, you have better tendency of a favourable interest rate. Interest Rate: From 5% to10% monthly, APR60%-120%. For instance, a 91-days loan payment terms have an interest fee of 5% per month.
How can I register on Easemoni Loan Platform?
To register on this loan app, do the following:
First, download the mobile app and install it.
Next, launch the app and enter your basic details.
Lastly, apply for your loan and wait for the approval.
How can I apply for a loan on Easemoni?
The steps below will guide you on how you apply for a loan on this platform:
Download the mobile app, install it and complete your registration process.
Next, choose the product you want to apply for, fill in the details needed, and submit your application.
Lastly, wait for the verification and approval of your loan application. Once the platform approves your loan request, E-sign the loan agreement and you'll receive the money immediately.
What is the loan tenure on this loan app?
Easemoni requires you to commence the reimbursement of your loan from 91 to 365 days. Basically, this means that you get a grace period of roughly 3 months. Take note that your loan tenure may vary depending on the amount of money you borrowed.
What are the requirements to borrow a loan from Easemoni?
There are certain requirements you must meet to be able to apply for a loan on this platform successfully. These requirements include:
You have to be a citizen of Nigeria and live in Nigeria.
You must be within the age range of 20 to 55 years.
You must have a reasonable source of income. Basically, this enables them to review your loan application appropriately and determine the maximum amount of money you are eligible to borrow.
The personal information you used during your registration must be valid.
How can I download the Easemoni loan app?
EaseMoni App Download
Here's how to download this app in simple steps:
Take your android device and open Google Play Store.
Next, search for 'Easemoni' and download the app.
Once you download this app, begin your registration process and apply for a loan when you are done.
EaseMoni Customer Service And Support
How To Contact EaseMoni
Email: easemoni@blueridgemfb.com
Telephone Number: (+234) 9087614150
Whatsapp customer number: (+234) 8073634739
Office Address: 60 Adeniyi Jones Ave , ikeja , Lagos , Nigeria
EaseMoni 7 Day Loan App Harassment
EaseMoni and many fake loan apps involve in unethical lending practices and daily send harassing, public shaming and blackmailing messages to their customers to force loan repayment, even though this platform denies this claim by their statement of Courteous Loan Collection Process below which was culled from their website:
"EaseMoni does not tolerate any form of inappropriate or illegal collections. If you have experienced any form of harassment or other form of abusive language, threats to your privacy and safety while using the EaseMoni service, please save the evidence and immediately contact our customer service department. We will investigate the matter, and where we confirm that the abuse originated from an EaseMoni staff, undertake appropriate disciplinary and remedial measures."
However our investigations and finding find this to be untrue. Many online lending companies even go ahead to labelling as criminals families and contacts of their customers when loan aren't paid on the due date. We bring below evidence of loan app harassment and public shaming perpetrated by EaseMoni loan forwarded to us by the victims. Often this harassment commences after 7 days loan tenure.
The screenshotted blackmailing picture below is from EaseMoni and was sent to a loan defaulter as you can see. Please note that this app is still hosted on Google Play Store.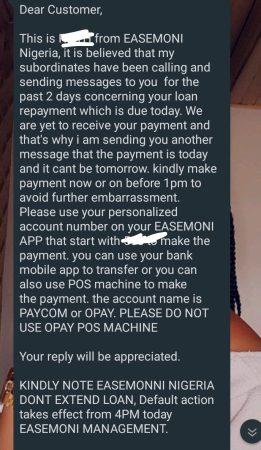 EaseMoni Customer Experiences And Reviews
We bring you a few random reviews and feedbacks from a few of the over one million users of EaseMoni on Google Play Store. The app is rated 3+ with an average of 4.4 Star recommendation. Over 163,000 reviews hasve been made from EaseMoni
EaseMoni Services Are Too Poor To Recommend – Shola Babatunde: 6 April 2023
I have recently made a repayment on my loan, and it is yet to reflect. I have sent emails with receipts; called the customer service line, which keeps one on holding endlessly; the live customer service chat is always busy too! This is unacceptable, as I'm over 10 days before the loan due date, and I certainly hope it will be resolved before then. With such services, it's not likely that one would recommend you.
It Keeps Telling Me To Reaply – Douglas Blessing: 14 March 2023
Though the services were good from the onstart but as time went by, EasyMoni loan app tells me to reapply after six days in which after the six days, tells me to re-apply in six days again. I have written series of complains to your email and they told me it was system error and have refuses to fix it. I will come back to give it 5 stars if the issue has been fixed
EaseMoni App is very much less secure – Tunde Gabriel. 16 March 2023
I'm afraid, the EaseMoni App is very much less secure, vulnerable and easily prone to hackers. Upon downloading and continual use of the app, it logs one in without a password after signing out. Currently the app on my phone was hacked and l cannot even sign in. I uninstall the app and try to sign in with a new password by clicking on forgotten password but the necessary code was never sent to my phone. The call and USSD did not work either, guess the hackers are having fun, still can't log in.
EaseMoni is very terrible loan app – Uba Onyekachi Otisi. 22 March 2023
Very terible loan app. Applied for loan and for over 48hours, loan is still being processed. Sent several mail to their contact center and they don't repond to any. Called their customer care severally and they can'tbe reach. I got them once but it seems it was programmed to be playing music for customers. Tried their live chat and it seems it is programmed to always be busy. Uptil now, the loan is still being processed and i cant even cancel it. App looks so empty.
This app is a big setup to trap users – Samuel Adekoya. 20 February 2023
This app is a big setup to trap users lol. Been using it for over a year now and since the new update. They set you up to collect the minimum they want you to collect. I collected a certain amount and paid back. After I refreshed my limit on the app, I could not collect less than an amount. I took it and then paid back after which they raised the limit again! Disgusting setup to trap you so they make more profit. You either take the minimum offer or you stay away lol Nice one Blueridge
The worst loan app ever – Olusegun Adejumoke Oluwatosin. 18 February 2023
No single improvement in the app at all, the worst loan app ever. Poor customer service and terrible rating. They kept me on a low loan offer since September or so, customer service kept telling me that I'm due for increment but there's an omission that they kept escalating with no result. Very painful, 100% credit score and early payment means nothing to their system.
This is the best mobile loan app I have ever seen – Valentino Bright. 6 March 2023
This is the best mobile loan app I have ever seen, I love the app so much. Their service is very fast and easy to access and if you repay back on time before the due date they will upgrade your loan limits… If there's any other rank better than 5 star I would have given it to you guys but since there's not, I give you 5 stars ⭐⭐⭐⭐⭐ EaseMoni. You are the best loaning app with amazing low interest and long repayment tenor.
deji adeleke. 15 December 2021
I would have given you 5 star but you have a long way to go. I repaid an EaseMoni loan via your app but you keeps adding additional interest. The company's staff confirmed the repayment, several email was sent to inform them of the repayment and error on the app but they keep sending me reminder to repay. Its frustrating dealing with people who don't read email. Please put your house in order.
Benedict Ogon. 13 December 2021
Easemoni is the real place to come if you need a strait forward platform for loaning. They are sincere and fast in disburstment of fund, above all is the low interest rate. Another good thing about Easemoni is that they increase your loan offer even beyond your expectation as soon as you repay on time. Thanks and may God bless your team and the entire organization
Tunde Omoju. 18 December 2021
Most considerate loan merchant, best interest ever, although you should try to look into the habit of denying customers fresh request as penalty for not applying instantly after redeeming a due loan. One should have the liberty of choice of whether to borrow immediately or later. The practice of denying one a fresh request for a week or more because one did not apply immediately after paying a due loan is most frustrating.
ROBINSON ULUEME. 5 December 2021
This is the best loan app I have came across in recorded times . Very easy and simple to operate . The interest rate is very good . They also have a flexible payment plan with human face . I give EaseMoni loan app 5 star rating well deserved . Please keep up the good work , you will rule the market very soon .
Esther oluremi. 14 December 2021
My experience with this app was initially nice, until i made my repayment 2 days before due date. But my dashboard was not yet cleared despite my explanation to their agents,whstsap message and also email with proof of payment from my bank account. Afterall u gave several means of payment to which i tried some before one became successful. When u guys know u cant reconcil payments with those accounts, you shouldnt hav given them out. Until am cleared 2 star.
Onwe Benjamin. 12 December 2021
Though the app is so easy to use apart from the day of repayment, i went through a lot of stresses before one of the customer services chatted me through WhatsApp and gave direction on how to go about it. The loan amount that you offered is too low for the amount i need, if you people can give higher and better loan offer, i will be so grateful, for now just(3) star, untill i see better loan offer, then i will make it 5
JOE OKENYI ENYO JOB. 15 December 2021
I am so disappointed in EaseMoni for not being able to rectify and confirm my payment made since November 15th,2021. They refused receiving the payment even when my Bank printed out the transaction details with session ID for me to present to EaseMoni to confirm the transaction successful they still refused working on it. I have sent mails more than 10 times and called their customer care more than 20 times at different occasions still nothing has been done to rectify this.