9Credit claims to be a reputable loan app that allows customers access to superfast cash loans of up to N3,000 to N100,000 without collateral, documentation or paperwork within few minutes of application once the required profile information is provided.
Unfortunately the once popular and trusted online platform has decided to shun good customer service and turned itself to one of the many fake loan apps in Nigeria sending shame and defamatory messages to their customers and their contact lists.
This unethical lending practice is becoming rampant, worrisome and calls for urgent attention from government financial institutions and regulatory authorities. We also take note that the Federal Competition and Consumer Protection Commission (FCCPC) have lately been stepping up effort to stem the tides of these illegal loan platforms in Nigeria.
How do I Borrow Money from 9Credit?
To borrow money from 9Credit, go to Google Play Store, download the app and do the following:
1. Install the 9Credit App from the Google Play Store
To borrow loans from 9Credit you have to download the mobile app. Currently, 9Credit is not available for iOS devices. It's available for only Android users. To download the 9Credit mobile app, visit the Google Play Store.
2. Create an account with 9Credit
Once the app is installed on your device, launch it. Register an account with 9Credit by providing the necessary information. This will also include your BVN and other bank details.
3. Choose the amount you wish to borrow
Select the amount of money you want to borrow from 9Credit and click on next.
4. Fill out the contents, then submit the application
You might be prompted to fill in some entries. Fill out all necessary content correctly and submit.
5. Wait for verification
After the submission, you may receive a call for verification. The final application result will be shown in the APP and you will be informed by SMS if approved.
6. Accept terms
The loan agreement will be shown to you. This agreement will contain information about interest and repayment. Mark the accept button to indicate that you consent to this agreement.
7. Receive your loan
After the confirmation of the loan agreement, the approved loan amount will be disbursed to your account. Also, an SMS notification will be sent to your phone number.
Requirements To Obtain Loan From 9Credit Loan App
The following is a list of requirements you must fulfil to get a loan from 9Credit.
You must be a bonafide Nigerian citizen and must be residing in the country .
You must have a functional bank account and the rest
You must provide your active BVN which is linked to your account.
Another important requirement is that you must be between the ages of 18 to 56, below and above this age, you will not be considered.
You must have a valid and working phone number that is required for you to obtain the loan.
You must have a very good and reliable source of income, they will vet this and be sure you can easily pay back the money you borrowed.
How can I register on the 9Credit loan app?
To register on this platform, you need to download the app first. You will need to find a guide on how to download the app below. Thereafter, follow the steps below:
Open the app and enter your details in the registration form.
The app will send you an OTP code which you will also have to enter and get a verification code.
Verify your account. After this, you have created your account successfully.
9Credit Loan Details at a Glance
Loan Amount: from NGN 3,000 to NGN 100,000;
Loan Tenure: from 91 to 120 days;
Interest Rate: 0.07% per day (25.55% per annum);
Processing Fee: Ranges from NGN 60 ~ NGN 2,000 for one-time charge, which depends on the loan amount and the application details;
GST: 18% of the Processing Fee in accordance with the policy and laws;
APR: Up to 45% (Annual Percentage Rate including Interest, Processing Fee and GST);
Is 9Credit loan registered?
No. 9Credit Loan is not one of the 178 registered loan apps in Nigeria. FCCPC recently released the list of approved lending companies in Nigeria and 9Credit wasn't included in that list.
9Credit Loan App Download from Google Play Store
9Credit is still hosted on Google App Platform and as a result, you will be able to download the app on Play Store Please note that the app is contravening and violating Play Store policies including granting loans for 7 days tenure, giving loans at very high interest and sending threatening and shame messages to users and their contact list.
9Credit Loan App (Apk)
9Credit Apk can be accessed online and the link is provided below. The loan app has over 1 million users and 99,000 reviews on Google Play Store alone that will enable you to make a perfect choice as to whether to download this app or not.
To download 9Credit loan Apk, follow the steps below:
Follow this link to get to their web platform to be able to download the 9Credit app, https://app-api.9moni.com/wap/index
Next, you have to click on the download button
Then you need to wait for the app to be downloaded to your phone, then install it, go through the registration process we've outlined, and follow through.
How To Repay My 9Credit Loan
To be able to repay your loan promptly, you need to follow the instructions outlined below.
First, you need to open the 9Credit mobile app on your phone and go to the loan history
Next, you need to tap on "Repay plan" immediately to get an estimate of the total amount of money you need to pay.
Lastly, you need to choose your preferred repayment method and pay back your loan. You will be debited immediately after it is approved.
What is the interest rate of 9credit loan?
9Credit loan platform offers you a loan between NGN 3,000 – NGN 100,000 with a payback duration of 2 to 3 months. Interest rate on the 9Credit platform is 0.07% per day and 25.55% per annum. Processing fee ranges from NGN 90 to 2000 for a one-time fee, which depends on the Loan Amount.
Is 9Credit Loan App Genuine? Or is it fake?
9Credit is not a genuine loan app. The app is a fake and fraudulent platform and Nigerians should avoid it by all means. The app has been accused of sending defamatory messages to contacts once you take a loan with them. 9Credit is neither registered nor approved with any financial regulatory authority in Nigeria and thus borrowers are warned to desist from patrionizing them.
Who are the founders of 9Credit loan app?
The official website of 9Credit did not reveal the founders of the now banned lending platform. This can be considered a red flag as a financial services company should always be transparent with their identities because this helps to develop and facilitate relationship with their existing and prospective customers.
Any company with Anonymous founders/owners will always raise criticism from the public about the genuity of the business which calls to question about the platform's legitimacy and genuineness
How can I contact 9Credit loan?
Here's how you can contact the platform:
Office address: Lawal street, oregun, ikeja, Nigeria
Website: https://www.9moni.com
FaceBook: https://www.facebook.com/Nine-credit-110139311612277/
Hotline: +234 09019310402
Online service: https://im.9moni.com/
E-mail: customer@9credit.co
9Credit Loan App Harassment
9Credit Is Evil — Customer Vows To Sue Loan App Over Malicious Messages To His Contacts
Hello VERY SERIAL,
My name is Emeka Yinusa, (not real names). I took a quick loan (7-day) from 9credit on the 22nd of December and by 29th they claimed I was a day overdue and they started sending out malicious and damaging messages to my contacts. This include my business partners and family members who have been calling me, I'm afraid this will affect my business and my aged mother's health.
This came as a shock to me because this is the 26th time I've taken a loan without defaulting and they have made over 100k profit from interest accruing from our transactions. The loan is 35k and the repayment is 43330. 1 day overdue is 1630 which has also been added to it. I couldn't make the repayment on time because I was hospitalised from food poisoning. I feel with my record I deserved at least a few days given that I'll also pay penalties for late repayment.
After collecting their money how are they going to erase the damages done to my career and name? They even published my wife's number, my BVN and account number. This 9credit is evil. There must be a way to get them to cut down these excessively malicious and damaging actions meted out to genuine customers with good records. Nobody deserves this at all!!! I need to sue 9Credit over this defamatory contents.
9Credit is evil, no need to go this length at all. It's like they don't care that they are ripping customers off. Subjecting them to less than inhumane traumatic treatment. I hope the FCCPC will put 9credit on their radar for customer abuse
They doxxed my wife by revealing her number unnecessarily to people she doesn't even know.
See message from 9Credit below:
PUBLIC NOTICE!!! This is to inform the general public that Emeka Yinusa Phone: 0703xxxxxxx, WIFE: 904xxxxxx, Bank Name: First Bank of Nigeria plc Account no.: 3064xxxxxx, is a dubious person and a ruthless chronic criminal who goes about defrauding people. this person is currently on the run with our companys money and has refused to pay nor pick our calls.
Be informed that this person has ben declared wanted. Pls contact us if you have any information about this person as soon as possible, else the company will proceed to the next action, because this person provided us with all your details and if you are not aware of this fund you can as well call the person to delete your information in the app,, because soon the person pictures along side your own pictures will be posted in all social media be warned NC ICT EMBARRASSING TEAM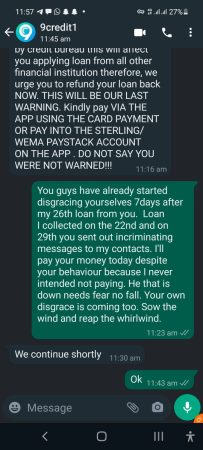 Lagos Journalist threatens to sue 9Credit Over defamation
An inflammatory and defamatory text message sent to a renowned Lagos journalist,.Mr. Muyiwa Lucas who works with a leading mainstream newspaper, may snowball into a litigation if the lending platform involved fails to apologise in three major Nigerian newspapers in the next one week.
A renowned journalist who works with The Nation Newspaper in Lagos, Mr Muyiwa Lucas has threatened to sue 9Credit, a lending platform hosted on Google Play Store and it's parent company, OTP Internet Technology based in Lagos, for sending defamatory and blackmailing messages to him on his telephone number this morning.
The lending company, 9credit, on Wednesday morning (today) had sent a blackmailing text message to Lucas' mobile number intimating him of a loan gone awry given to a certain to one Mr Shola Akinyele.
However, the content of the text does not sit well with the ace journalist, who is now demanding an official apology from 9Credit within 7 working days, failing which he has threatened to drag the loan app and its parent company, OTP Internet Technology to court of law to seek redress.
READ HIS STATEMENT BELOW:
"I woke up this morning to read the text message from 9Credit loan platform claiming my name and number was used as collateral at the time of granting a said loan to one Mr. Sola Akinyele. Did 9Creditt contact me before granting the loan? No! So why sending me this very annoying, disrespectful, embarrassing and blackmailing message over a transaction I'm not privy to?", a visibly angry Lucas asked rhetorically.
He said it was hightime firms like 9Credit are made to face the consequences of their actions or inactions as a deterrent to others.
Consequently, the journalist has given a 7-day ultimatum to 9Credit to publish an official apology in three Nigerian national Newspapers or face litigation.
See below the infuriating message :
Phone 08024563894 Name Shola Akinyele Good day, the above named person took a fund from NC and has defaulted for several days, broken all contractual agreements that were in place when this fund was taken and has refused to repay the fund and has proven to be a person of questionable character. DISGRACE IS INEVITABLE AT THIS POINT, AND YOU BEING A FRIEND / FAMILY SHOWS THE KIND OF PERSON YOU ARE AS BIRDS OF A FEATHER FLOCK TOGETHER. YOU WERE USED AS AN EMERGENCY CONTACT. SO, CALL AND TELL THIS INDIVIDUAL to make payment now.IF YOU WERENT INFORMED WHILE THIS fund WAS TAKEN, ASK FOR YOUR DETAILS TO BE REMOVED FROM OUR WEBSITE AS YOU WERE USED AS THE EMERGENCY CONTACT.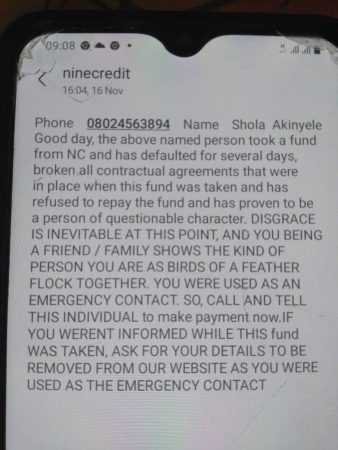 Editor's Note: The above articles was sent to us from one of our numerous readers in response to our review articles warning customers not to borrow money from fake loan apps and loan sharks most of them with high interest that will become debt traps. Our Right of Reply Column features feedbacks from our readers and loan customers and are published unedited.
9Credit Loan Reviews from Customers and Users 
9Credit Sends Spam Notifications –  Deborah 
A few seconds after I launched the 9Credit app, my phone was attacked with multiple notifications repeating the same messages and calling on me to take a loan. I felt specifically targetted and it was a disturbing experience.
I lost my Job because of 9Credit Loan App – Anonymous
9Credit app made me lose my job because they sent a defamatory message to my boss that I chose him as my emergency contact and guarantor. My boss in turn stated accusing me of using his name to collect loans without his knowledge and I got fired.
9Credit Is Useless Platform That Sends Shame Messages To Your Contacts – Ayofemi 
9Credit is a very useless and senseless platform. Once you default on a loan due to one circumstance or another, instead of them to trying to reach you to find out why you defaulted, they will start sending shame and threatening messages to your contacts.
9Credit Is A Bad loan company – Victoria 
I will advise the general public never to loan money from 9Credit so as to avoid embarrassment and name calling. I missed my repayment date and message were sent to my contact that I am a thief, dubious, a liar and what pains me most is that, they advised my contacts not to do business with me.
Fraudulent activities – Anonymous
Some of us felt we had built a reputation with 9Credit because we had always paid on time BUT NO! The only time I couldn't meet up within their time limit which is 7 days, though I had asked them for a few days' grace, they sent messages to my contacts calling me a fraudster and lying to them all that they're my emergency contact numbers. Nigerians should avoid the app totally, they are very fradulent.
Conclusion
9Credit app cannot be trusted because the founders and management and office address are not revealed or available and their website do not carry any authentic or legit information. Also the app sends shame and harassment messages to its customers.
Anyone who goes to use this platform would be doing so at his or her own peril. There is so much shady business going on which is unknown to the public and people should beware not to fall prey to dubious loan platforms like 9Credit.